Hot Springs Village The Turn at Balboa Club – Where Everybody Knows Your Name
The Turn, located at 111 Balboa Way, is a recent addition to Hot Springs Village. After extensive negotiations with the POA, Brandon and Ashley Kogut opened the doors of their lounge for business on July 19, 2021. Eventually, they plan to expand with a restaurant upstairs.
When asked why and when the couple first became interested in opening a facility at the Balboa Clubhouse, Ashley said, "we have been going to Balboa for the last several years and have always loved the atmosphere and the view. Brandon and I love to golf and love to be on the course, so this is a prime spot for us. Brandon and I discussed the potential Balboa has to offer, and we started really discussing the possibility of taking Balboa over about a year ago. The potential, the history, and the location are really what drew us to take over."
Schedule
Ashley explained, "our hours are temporary. We plan to stay open seven days a week. Winter brings a slower time though, so hours may have to be adjusted. We have plenty of televisions for football season, so hopefully, we will only have to extend hours and not cut back." Currently, The Turn is open seven days a week with the following hours:
Sunday 11-5
Monday 11-7
Tuesday 11-9:30 Karaoke 6:30-9:30
Wednesday 11-7
Thursday 11-7
Friday 11-11 Karaoke 7:00-11:00
Saturday 11-7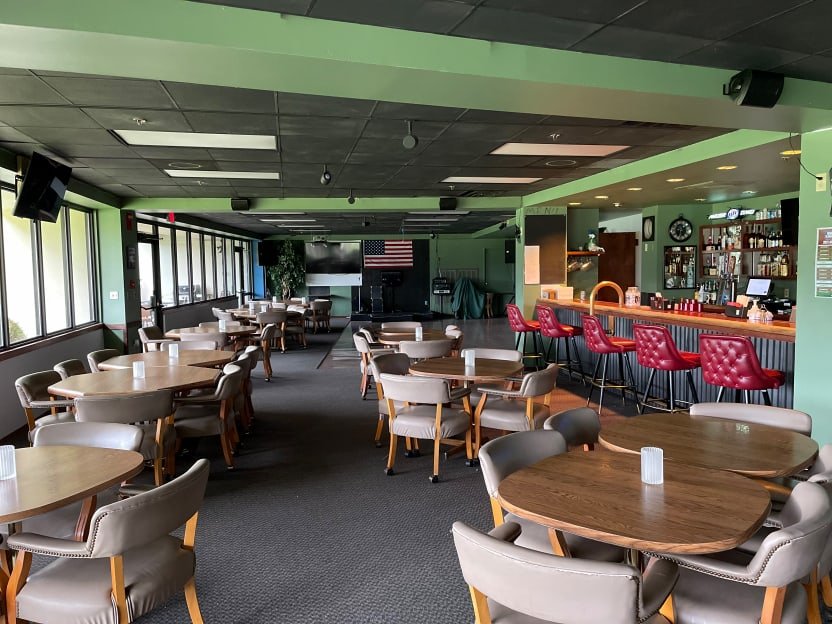 At this time, The Turn is offering a limited menu but will be serving more items later when the POA finishes the upstairs kitchen. The menu is "trial and error," as they are trying to determine what sells and what doesn't.
Temporary Menu for The Turn Lounge
menu-turn

There are a few issues with the supply chain and this has caused a kink in the POA's plans to finish the upstairs kitchen but Ashley says supply chain problems haven't affected the restaurant ordering to any great extent.
Entertainment
As already mentioned, there are televisions, eight installed in total, so that anywhere you sit, you will have a good view of one of the televisions.
Ashley explained, "The Turn is the perfect spot for entertainment. We already have some live entertainment [scheduled] on the books – Marcus Sugg, ShugaBeatz, and Mike Bearden."
Also, there is karaoke every Tuesday and Friday evening.
The Koguts have discussed having a DJ for dancing.
Biggest Challenge and Reward
When asked what their biggest challenge is in the food service business, Ashley replied, "The biggest challenge in food service right now is definitely the pandemic. The pandemic has affected every aspect of food service." The support and understanding of their customers have been greatly appreciated.
Ashley enthused, "The best thing about working in food service is all the amazing people you meet and all the friendships you develop. One of my favorite television shows is Cheers. I have always wanted that kind of atmosphere, where everybody knows your name and they're always glad you came."
About the Koguts
Brandon and Ashley have been married for six years and have an almost-three-year-old daughter, named Marlee.
They first met nine years ago at Charlie's Pizza Pub. Charlie's, owned by Brandon's aunt, is an old-school parlor, supplying sandwiches and handcrafted brick-oven pies and drinks, with outdoor seating. They are located at 127 McNeely Circle, Suite A in Hot Springs Village.
Ashley elaborated, " As the story goes we ended up married three years later."
Ashley said she pursued a career in the nursing field while Brandon went into construction sales. "Brandon always has talked about running a restaurant/bar. His dad was involved in the food business, and both Brandon and I waited tables for several years through college. We took the leap two years ago after our daughter was born. We wanted to build a future for our family. We love the flexibility of owning a business so that we can spend as much time with her as possible."
Click here to visit The Turn's Facebook Page for the latest updates.
Cheers Theme Song, "Where Everybody Knows Your Name"
By Cheryl Dowden, August 21, 2021
Photography Courtesy of Joe Dowden and Ashley Kogut
* * *
Thank you for reading. If you like, please comment below. We love to hear your opinion, but comments must be made using your first and last real name, or they will not be accepted. If you would like to submit an article for publication, please contact us through this website. Be sure to bookmark this website. Click here to visit the Hot Springs Village People Facebook Group.