ShugaBeatz Premier Performance at The Turn
Important Update from Laura
"Just got word from Ashley at The Turn. We're rescheduled for Sept 25. They had a COVID outbreak and have to close and deep clean and won't reopen until next week sometime. Thanks again for your wonderful article."
On Saturday, August 28, 2021, Bill and Laura Sorrells of ShugaBeatz will be performing at The Turn at the Balboa Club from 7:00 to 10:00 p.m. The Turn is located at 111 Balboa Way in Hot Springs Village.
Although the ShugaBeatz performance is not part of the official Arkansas Heritage Festival, it would be a nice way to end a day of fun festivities. You still have time to drop by The Turn after the Gil Grand Concert.
ShugaBeatz is a delightful duo that provides live music at local venues for your listening and dancing pleasure. Laura plays the keyboard, and Bill handles the drums. Both of them perform vocals.
ShugaBeatz features various types of music to accommodate the following dance styles: swing, foxtrot, country, cha-cha, and waltz. They have something for everyone!
The Turn, a new lounge in the Village, opened on July 19 and the ShugaBeatz event is their first Saturday night entertainment.
Click here to visit ShugaBeatz's Facebook page. Click here to read about The Turn.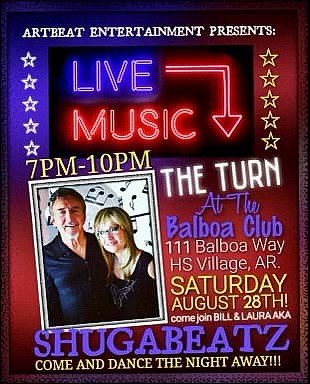 By Cheryl Dowden, August 23, 2021
* * *
Thank you for reading. If you like, please comment below. We love to hear your opinion, but comments must be made using your first and last real name, or they will not be accepted. If you would like to submit an article for publication, please contact us through this website. Be sure to bookmark this website. Click here to visit the Hot Springs Village People Facebook Group.