"Sneak Preview for Village residents. Since the August 8th concert sold out, I want the community to know about this jazz concert first. Come see why these concerts are becoming wildly popular with musicians and music fans from all over the state. Read below to learn about the amazing upcoming event."

Melanie Williams, Producer Xplore Concert Series
Double Trouble in HSV!
Two world-class saxophone players, Brandon Dorris and Matt Schatz will share the stage to provide for you a double dose of saxophone with double the fun! They will be performing in the Xplore Jazz Concert on Sunday, August 22, 2021, at the Beehive in Hot Springs Village from 3:00 to 5:00 p.m. And to make things even sweeter, the Clyde Pound Trio will accompany them for an afternoon of fantastic jazz.
Brandon Dorris of Double Trouble is a multi-instrumentalist from Little Rock. He has been a fixture on the local music scene for 20 years. Brandon has been featured in dozens of shows all over the area during that time. Brandon studied sax and completed a BA in Improvisation at the University of Arkansas at Little Rock. He has played with the Arkansas Symphony Orchestra and is currently the Director of the Arkansas Symphony Youth Orchestra Jazz Ensemble. He gives private music lessons to students working to develop their talent. This effort helps to propel these students into university-level music programs so they too may reach their dream.
Matt Schatz of Double Trouble comes to us from Little Rock. He studied saxophone with Ron McHone at Sheridan High School. He then earned his Bachelor's Degree under Gary Meggs at the University of Arkansas at Monticello. He has been a regular with the BB King All-Stars. He plays multiple instruments and helps young, upcoming musicians develop their talent.
Hot Springs Village resident, Clyde Pound, of the Clyde Pound Trio, has a resume a mile long. He spent 33 years in Hawaii, arranging shows for all of the musical giants who came to entertain there. On the local jazz scene, Clyde has produced every JazzFest on Labor Day weekend in Hot Springs since 2007. He also produced Jazz Night at The Ohio Club for six years where talented musicians came from all over the state to be guest musicians at those wildly popular jams. 
David Higginbotham of the Clyde Pound Trio has a Master's in acoustic bass from the University of Arkansas at Monticello. He has been teaching elementary music education for the Little Rock School District for 20 years. He actually teaches at the school that his son attends.
At the Robinson Theater, David organized the orchestras for musicals including, Wicked, Beautiful, Phantom of the Opera, and many more. He was also a pit musician and his debut recording was, This is my Heart. In this album, David wrote all 15 songs, performed all the instrumentals in addition to singing all of the vocals. David is a part of the Spa City Stompers as well as the Clyde Pound Trio.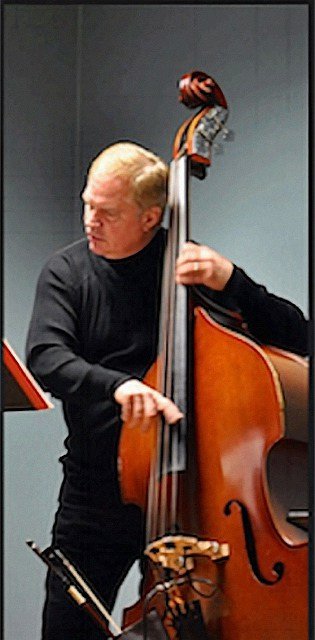 CE Askew of the Clyde Pound Trio, recently moved to the Village from North Little Rock. For 21 years, Askew served as the Air Force Band Director until 2004. Returning to the States in 2011, after a hiatus in New Zealand, Claude taught percussion at the University of Arkansas at Monticello. He was promoted to Director of the Masters in Jazz Program until his retirement in 2018. In addition to being a member of the Clyde Pound Trio, he also plays with the Spa City Stompers.
For reservations text Melanie Williams at 805-478-5887.
By Melanie Williams, July 24, 2021
* * *
Thank you for reading. If you like, please comment below. We love to hear your opinion, but comments must be made using your first and last real name, or they will not be accepted. If you would like to submit an article for publication, please contact us through this website. Be sure to bookmark this website. Click here to visit the Hot Springs Village People Facebook Group.