Let's show our new General Manager, Charles King, some Hot Springs Village hospitality – and have some fun doing it!
What: Drive-by Meet & Greet for new General Manager Charles King
When: Friday, August 7, 4:00 – 5:00 p.m.
Where: Porte Cochere in front of Woodlands Auditorium
All Villagers are invited to join the fun in their cars, golf carts or ???? Decorate your car? Sure! Display your Club or Organization's Banner? Sure! Honk your horn? Maybe not!
More details and surprises to follow right here next Friday, but for now, we're looking for a small band or two to provide music COVID-19 style. If your band is interested in contributing your musical talents, email Director Pam Avila at pavila@hsvpoa.com.
Mark your calendar and watch for more details here next Friday.
* * *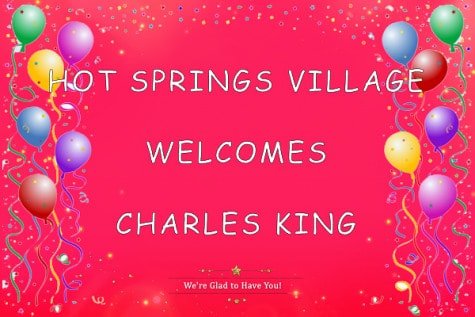 Editor's note: Let's show our new General Manager Charles King how glad we are that he with us! This is something we can safely do, even with COVID-19. Villagers are the most enthusiastic, vibrant, and energetic folks ever. Let's make this event a HUGE show of support and a warm welcome for our new General Manager. We hope to see you there on Friday, August 7. Thanks in advance for your participation in this fun history-making occasion! – Published July 24, 2020
Update August 1, 2020: "Refreshments "served" COVID-19 style as you drive by!"
* * *
Click here to go to visit our Community Forums.
* * *
Click here to visit our Private Facebook Group.
* * *