Update on January 12, 2021. This article is being dedicated to Mary McNamer, a truly kind, generous, and wonderful villager. We received notification of her passing this morning. Mary was one of the founders of the HSV Dog Park. Her beautiful dog, Chloe, is the dog in the photograph (above).
It's a Dog's Life at Hot Springs Village – DeSoto Dog Park
It's a dog's life at HSV DeSoto Dog Park for humans and dogs alike. The dogs frolic to their hearts' content and the humans enjoy the interaction with and between the canines and each other.
To go to the dog park take Toledo Drive north off of DeSoto Boulevard. To the left lies DeSoto Park Drive. Follow this to the dog park which sits across from the lawn bowling grounds.
The dog park opened in November 2013 and originally allowed free community access. On February 3, 2014, the POA required owners to pay a small fee and sign a dog park waiver in addition to the already existing requirements. The existing requirements for all dog owners were to register the animal with the POA and provide proof of rabies vaccination. Once these requirements are met, this activates the property owner's coded electronic POA card which is used to open the gate.
HSV Dog Park Official Grand Opening
The official grand opening for the HSV DeSoto Dog Park was April 22, 2014. The dog park dream was the brainchild of Joe Moreau and Rolland White. In addition to Moreau and White, around 500 village residents and Friends of the DeSoto Dog Park were outstandingly successful with the fundraising efforts. This endeavor resulted in the collection of $85,000 for their pet project. Then Friends of the DeSoto Dog Park worked diligently with the POA staff and POA Board to make this project a doggone good success!
No Leashed Dogs Inside Dog Park
Hot Springs Village has leash ordinances for dogs. The 1.5 acre DeSoto Dog Park in HSV is a relatively level area where 'man's best friend' has free reign to romp and chase frisbees and tennis balls off leash. Dogs must be taken off leash once you enter the card-entry gated vestibule.
Little Dogs/Big Dogs Have Separate Areas
Once in this area, you and your dog have two choices and the decision you make will depend on the size of your dog. Little dogs go one way and big dogs have their own area. The determination as to which side your dog belongs sometimes depends on the human's evaluation as to how their particular animal interacts with other dogs. Some 25-pound dogs thrive on the big dog side with dogs three or four times their size and some of them are a bit on the shy side and do best with the little fellows. It all works out in the end.
Dogs Have a Ball
You will often see the park littered with many neon-yellow-colored tennis balls, so no need to bring your own unless your precious pet has a preference. If your pet has a special toy or a certain ball thrower you prefer, then by all means, bring the favorite. Of course, if you would like to add to the tennis ball or frisbee collection, you are more than welcome to bring a few to leave for future fun and frolic.
Cooling It
Your big dog can cool off on a hot summer day in a galvanized tub. Pet caregivers can serve Rover a refreshing bowl of water at the watering stations. Water bowls are available and fresh tap water is plentiful all year around. During warm weather, there are hoses to cool Rover if he becomes too hot.
Both big dog and little dog sides of the dog park have a small concrete pad where a fountain and hose are located for showering off the dogs. This amenity is vital if they happen to become overheated in the dog days of summer.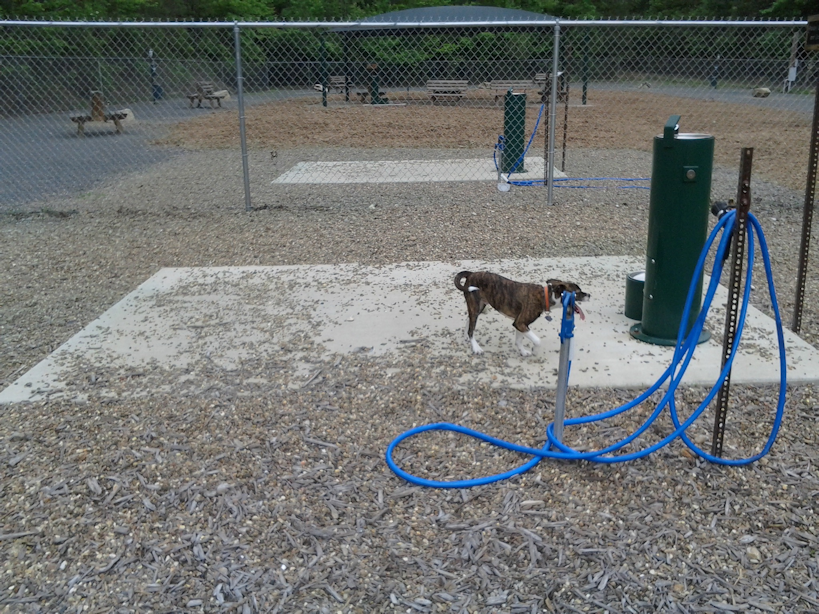 While there is not a tub on the little dog side, sometimes the furry friends make use of their own personal pond to cool off. This is Bubba Boudreaux doing just this. Sometimes you have to let dogs be dogs.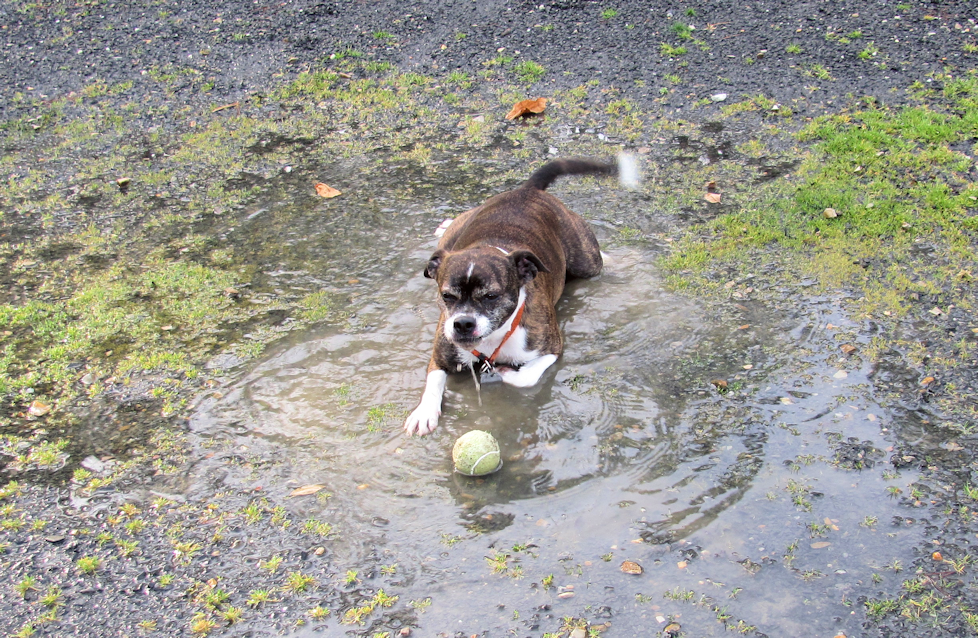 Plastic waste bags are available and the appropriate waste receptacles are located at convenient spots within the park. Cleaning up after your dog is a requirement. When everyone does this, it helps to keep the park nice for everyone.
The park is open year-round, from dawn to dusk except for an occasional workday when maintenance crew need to go in for grounds work, make improvements or repairs.
Rules for Success
In order to avoid potential problems, no food or drink is permitted in the dog park. Also, smoking is prohibited. After all, some dogs will eat the butts and this is dangerous. Dog treats are not allowed. Not fair for Rover to get a treat while Fido longingly looks on. But even if someone brought treats for all the dogs, there could be a food aggression issue.
By entering the park, users agree to abide by the posted rules. All users of this park do so at their own risk and are responsible for any incidents caused by their dogs.
The HSV DeSoto Dog Park has ample benches under a shade pavilion, where human and canine interaction flourishes. Animal lovers and animals alike meet and become acquainted with each other, which is by design in the HSV DeSoto Dog Park.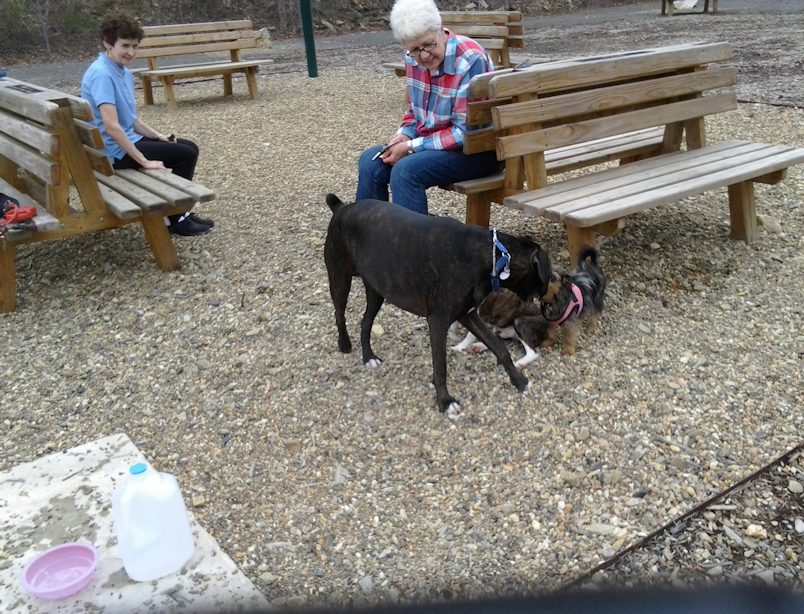 While the dogs chase each other and frolic, many a social plan or party details have been worked out under the canopy of this ample seating area. Countless friendships have been forged and good ideas have been exchanged. You never know what will happen at the Hot Springs Village Dog Park. Maybe you'll make a friend or two. The HSV Desoto Dog Park is just one of the many positives about living in Hot Springs Village, Arkansas.
Written by Cheryl Dowden
Photography/Drone Work by Joseph Dowden