Waypoint Cafe Reopening for the Season Soon; Reserve Your Pontoon Rental Boat Now
Ginger Ladeoff, HSVPOA Marina and Outdoor Program Supervisor, is pleased to announce that after Waypoint Cafe's long winter hiatus, the restaurant is eagerly awaiting its spring 2022 reopening. On Friday, April 1, 2022, the restaurant will once again heat up the range and resume serving the public. Waypoint Cafe is part of the Lake DeSoto Marina and the restaurant's season typically runs from the first part of April to the latter part of October. Waypoint Cafe is located at 120 Marina Drive in HSV. Click here to view the map.
What's on the Menu?
Waypoint Cafe at DeSoto Marina will serve up a variety of tasty items which range from a small breakfast menu to hamburgers, hot dogs, and other sandwiches. Soup, Frito pie, mac and cheese, snacks, and drinks will also be offered. The cafe will serve beer, wine, and a frozen wine margarita.
Umbrella-covered tables are available on the deck overlooking the lake and also a picnic area where you can kick back, relax and enjoy a snack or meal and a drink or two. Additionally, you will have the choice of limited indoor seating.
Waypoint Cafe Menu
Waypoint-at-Lake-DeSoto-Marina-Reopening-Soon-Hot-Springs-Village-Menu

Days and Hours of Operation for Waypoint Cafe
April 1 through May 8 – Friday, Saturday, & Sunday – 9:00 AM to 5:00 PM
May 10 through  August 28 – Tuesday through Sunday –9:00 AM to 7:00 PM (This is the main season.) (It was originally stated that 8:00 would be the opening time, but this has changed.)
September 2 through October 30 – Friday, Saturday, & Sunday 9:00 AM to 5:00 PM
Full Service Lake DeSoto Marina
The site has a boat ramp and the marina has non-covered boat slips available for rental. Ethanol-free fuel will be available for purchase. Although not open for the season quite yet, the full-service marina on Lake DeSoto will offer rentals of a kayak, pedal boat, and a pontoon boat.
Lake DeSoto Marina now accepting pontoon boat reservations for the 2022 Season – Call 501-922-5511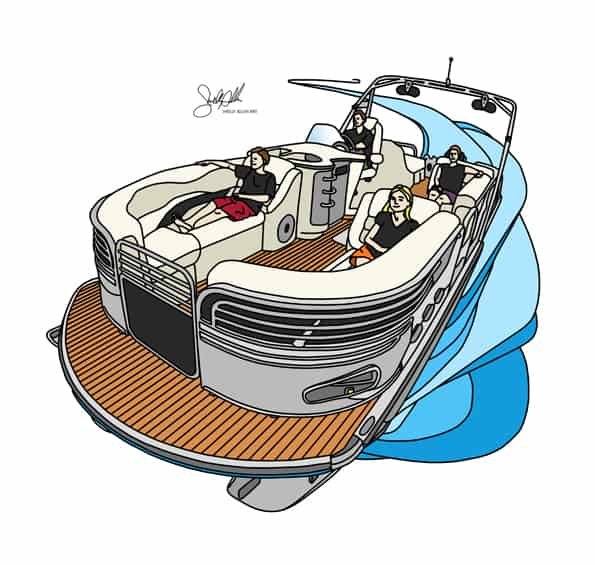 Ginger said she is already taking pontoon boat reservations. The pontoon boat sits, waiting for your captainship. This is a perfect option for those who want an occasional boat ride, but don't want the work and responsibility associated with owning a boat. There is no easier way to enjoy a day on the lake.
If you already know the date you will need the boat, you may want to give Ginger a call soon to make your pontoon boat reservations. The spots are limited and will fill up fast. Call 501-922-5511 to book your reservation now.
CHERYL DOWDEN, Hot Springs Village People Gazette, March 10, 2022
⚓ ⚓ ⚓
We are glad you dropped in to visit Hot Springs Village People Gazette. If you like, please comment below; we love to hear your opinion. Thank you for keeping the comments polite and on topic. Please use your first and last real name. We promote local businesses, events, and organizations! We also accept opinion pieces and articles from guest authors. Let us know if we can help. We can be contacted through this website; just click the contact button and let us know what's on your mind. Be sure to bookmark this site and come back to visit with us often as our content is frequently updated. If you are an HSV Property Owner, click here to visit and join a private Facebook Group.