Written by Lloyd Sherman, June 15, 2019
Editors Note: The following email from Lloyd Sherman was sent to the HSVPOA Board: HSVPOA Should Disband Governance Committee.
This email is being sent as due to a previous engagement I will be unable to attend the upcoming board meeting to make my public comments, but please be assured my comments will be posted in as many places as possible.
Now that we know you have been informed about the Governance Committee, in particular, is in violation of our Bylaws, many of us are asking this committee be disbanded. If it is ultimately decided that the committee is to be kept then the committee should only be comprised of non-board members and non-POA employees and only of property owners in good standing. To have this committee comprised of board members and the person the board is responsible for managing is akin to having a fox guarding the hen house. You cannot provide governance to your own actions and policies without creating an atmosphere of distrust.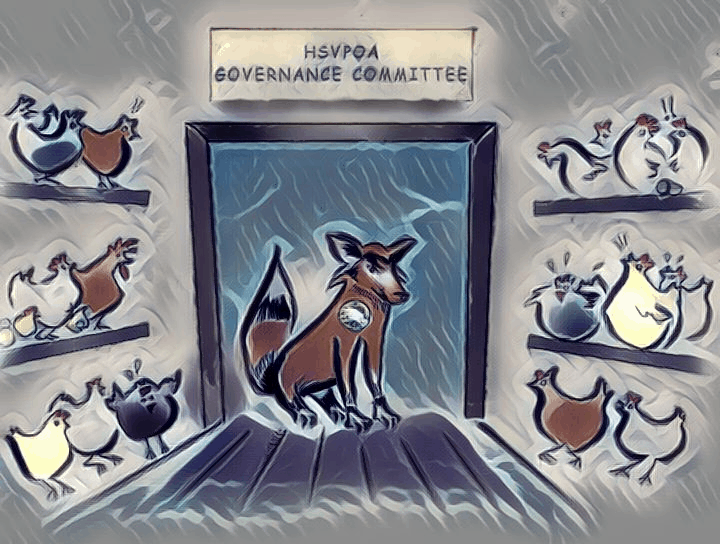 Any attempt to do anything but the right thing is not going to meet with property owner approval. We have heard the rhetoric that the Board wants to establish trust and any attempt to approve a workaround to fix this issue is not acceptable. By that I mean, any attempt to change the Bylaws to fix this broken body will be yet another signal that you are choosing to do what you want and not what is right.
This most likely consumed more than the three minutes I would have been allowed at the board meeting, but dealing with this properly before that time will result in less disruption and hopefully fewer comments.
12 Key Tasks of a Governance Committee from Neo Law Group (Lloyd's Comments in Blue)
HSV-Governance-Committee

Authored by Lloyd Sherman, Hot Springs Village
Edited and formatted by Cheryl Dowden