Xplore Concert Series Begins June 13, 2021 at Beehive Neighborhood Hangout
We are excited to announce that the first performance in the Xplore Concert Series will take place on Sunday, June 13th from 3-5 pm at the Beehive. All of the featured musicians have performed several times for Jazz Night at The Ohio Club. Join us for some of the best live jazz here in Arkansas. For more information or reservations text Melanie Williams at 805-478-5887.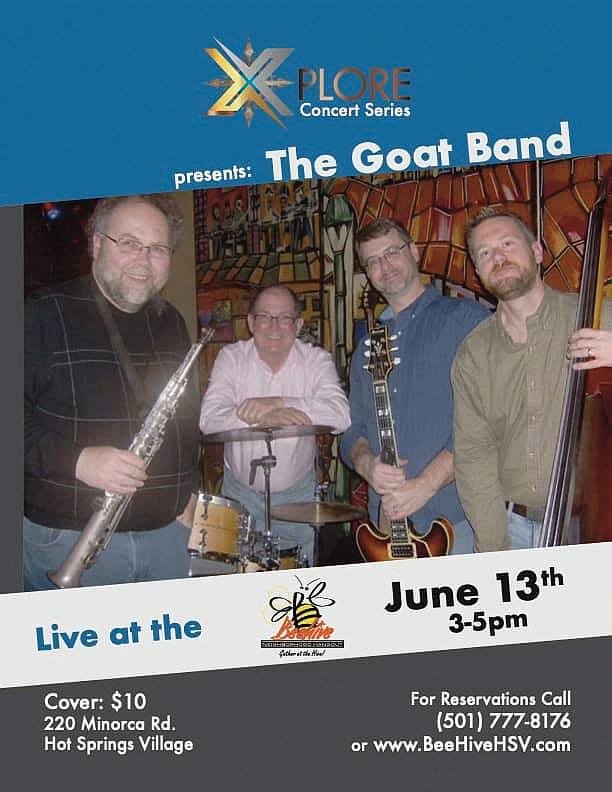 History of the Goat Band
The Goat Band started as the core musicians for the pit orchestra of the Arkansas Repertory Theater where they played every show for more than a decade. With a shared love of jazz as well as theater music, they soon began performing as a jazz quartet at public and private locations around the state. They held a monthly jazz concert at the Lobby Bar in Little Rock. You can find more than a dozen videos of their jazz nights on YouTube. With more than a decade of playing together, no two performances are the same. They thrive on the improvisation, interaction, and interplay that only comes from years of experience, respect for each other, and also for the music.
Come and Enjoy This One of a Kind Musical and Jazz Experience
The Beehive Neighborhood Hangout is located at 220 Minorca Road in Hot Springs Village.
The Goat Band Performers
Barry McVinney-woodwinds flute, clarinet and sax
Steve Hudelson-guitar
Brian Wolverton-bass
Patrick Lindsey-drums
* * *
Thank you for reading. If you like, please comment below. We love to hear your opinion, but comments must be made using your first and last real name, or they will not be accepted. If you would like to submit an article for publication, please contact us through this website. Be sure to bookmark this website. Click here to visit the Hot Springs Village People Facebook Group.