Fountain Lake 4.0 GPA High School Scholars Honored at Governor's Mansion Luncheon – Seniors Received Altrusa Scholarships – 2022
What does it take to maintain a 4.0 grade point average for all four years of high school?
Some of the students from Fountain Lake High School who can answer that question — and other students who hope to join that elite club — assembled at the Arkansas Governor's Mansion in Little Rock on April 7 for a luncheon honoring their achievements. Their proud parents and a few grandparents also were on hand, along with members of Altrusa International of Hot Springs Village, AR, Inc. which organizes the annual luncheon honoring top students in grades 9-12 at Fountain Lake and another luncheon honoring the best students at three other local schools.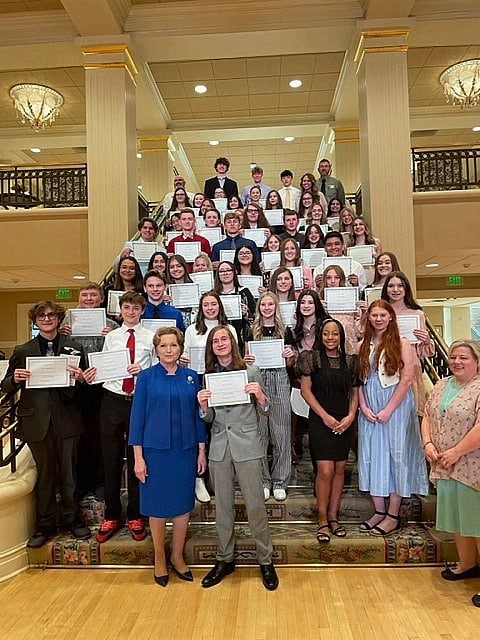 Altrusa also awards scholarships to students who maintain a 4.0 GPA all four years. Fountain Lake has six: Marie Angela Coriaty, Renee Simone Costello, Hailey Marie Crowder, Bailey Diann Knappier, Michael Edward Moore, and Sophie Abagail Skinner.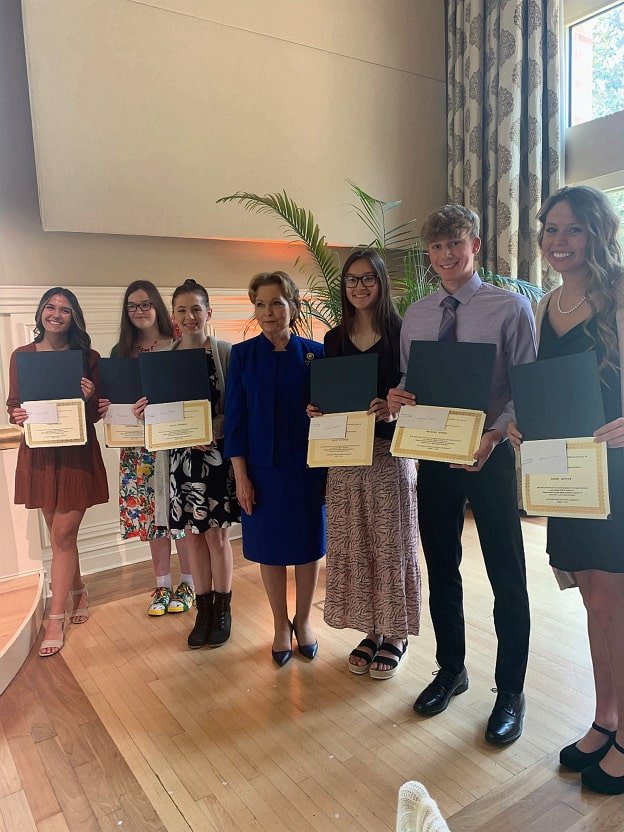 Altrusa's 4.0 Committee Chairman Valerie Derryberry and committee member Lynda Grasse awarded $500 scholarships to each of the six seniors.
Arkansas' First Lady Susan Hutchinson welcomed the group, who have the potential to be the future leaders in their chosen professions. She urged them to make learning a lifelong pursuit, to never turn down an opportunity to expand their knowledge, even if the information doesn't seem to have any practical use in their lives.
Be prepared is good advice, and Mrs. Hutchinson should know. She took speech classes in her teens and early 20s, but she never really expected to use them – little did she know what the future might hold or might still hold.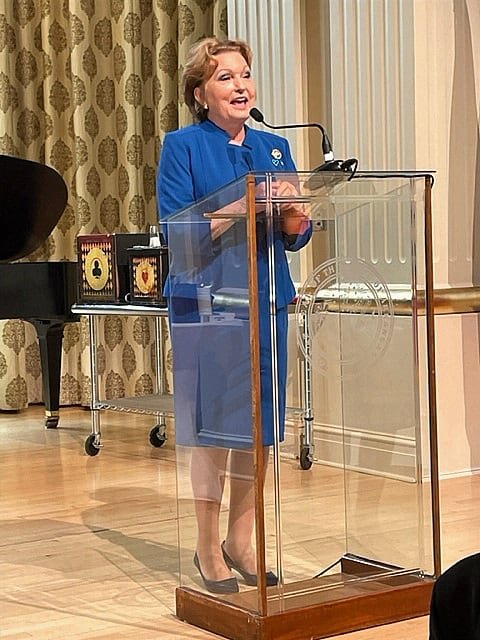 Diane Bielanski
Communications Committee / WebmasterAltrusa International of Hot Springs Village, AR, Inc.
* * *
We are glad you dropped in to visit Hot Springs Village People Gazette. If you like, please comment below; we love to hear your opinions.  Thank you for keeping the comments polite and on topic.  Please use your first and last real name. We promote local businesses, events,  and organizations!  Let us know if we can help. We also accept opinion pieces and articles from guest authors.   We can be contacted through this website;  just click the contact button and let us know what's on your mind.  Be sure to bookmark this site and come back to visit with us often as our content is frequently changing.   If you are an HSV Property Owner,  click here to visit and join a private Facebook Group.
They are actually standing in alphabetical order. From left to right: Angela, Renee, Hailey, Mr. Hutchison, Bailey, Michael, and Sophie.