The Special Board Meeting 4-17-19 (New Board Members take oath of office)
Nalley calls Special Meeting to order with four items on the agenda.
The oath of office of new Board Members.
The election of officers.
The signing of indemnification agreement.
Conflict of Interest Disclosure.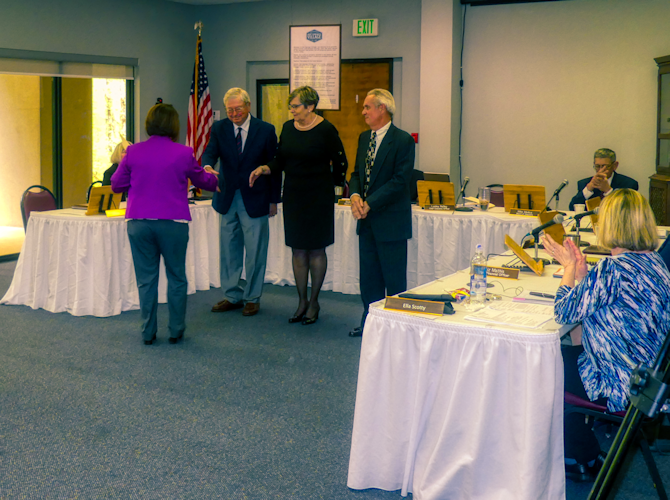 Nominations for Chair and Vice Chair
Dixon nominated Medica for Chair. Garrison nominated Erickson for Chair.
Nalley did not call for a second.
Podawiltz asked Nalley if she was going to call for a second. Nalley did not seem to understand the request and said, "You will vote by ballot".
Podawiltz said, "At this point in time, do we have a Parliamentarian in place?"
Nalley, "Yes, Nancy Luehring".
Podawiltz, "I just wanted to…"
Nalley interrupted, "According to our bylaws, until you are replaced, you continue on."
Luehring nominated Dixon for Vice-chair.
Podawiltz nominated Campagna for Vice-chair.
Nominations for Secretary and Treasurer
Nalley moved on to nominations for Secretary and Treasurer after giving a bit of history explaining that historically (traditionally) both the Secretary and Treasurer have been employees and that these positions required day-to-day interaction. The bylaws state these two positions may be salaried employees and also they need not be members of the association. Nalley, stating strongly, "Starting with the Secretary, this past year I served as the Secretary and I will take nominations for the position of Secretary."
Campagna nominated Nalley for Secretary.
Nalley, "Next I will take nominations for Treasurer. Liz has served in that capacity last year and I will take your nomination for Treasurer."
Dixon nominated Liz Mathis for treasurer.
There were no seconds. Nalley passed out ballots.
Erickson was elected chairman and Campagna was elected vice chairman.
Indemnification and Conflict of Interest Disclosure documents were signed
Indemnification document was signed by all Board Members.
Erickson talked about the new policy of Conflict of Interest Disclosure.
Conflict of Interest Disclosure Document was signed by all Board Members.
Nalley adjourns Special Board Meeting – Podawiltz says Nalley not in charge
Nalley said, "With that I will adjourn the Special Meeting".
Podawiltz said, "You no longer were in charge of the meeting because we elected a chair. So it would have been up to the Chair to adjourn the meeting."
Clapping in the audience.
Tormey tried to make a motion(s). (Inaudible)
Chairwoman Erickson says, "Will you help me, Parliamentarian?"
Parliamentarian Luehring says nothing can be added to meeting
Parliamentarian Luehring reads from a pre-prepared document and states no new items may be added to the agenda of the Special Meeting. "This was a Special Meeting, with notice well in advance of the meeting. It is a single agenda type meeting. Nothing can be added to this particular agenda."
Brian Darst objects
Brian Darst (from the audience) was heard shouting, "point of order, point of order. That is incorrect. Robert's Rules of Order. Point of Order."
Erickson says we are going to stand adjourned at this point and deal with this matter separately.
Note: This was written because there seems to be a lot of confusion about this meeting and we wanted to clear things up for the sake of transparency. – Cheryl Dowden