The Hot Springs Village Property Owners' Association has faced challenges twice with the 2022 Assessment Coupons and Renewal Packets.
First, there was a delay in the mailing of the HSVPOA renewal packets due to a production problem at the printing and mailing vendor. Normally, Villagers would have received this information by now and many have been inquiring about this delay. The December 29, 2021 Digest emailed to Villagers stated:
"Delayed Delivery of Annual Renewal Packets"
"A production problem at our printing and mailing vendor has caused a long delay in issuing your annual renewal packets for assessment payments and amenities membership. We are working with the vendor to resolve this issue…"
In addition to this delay, the POA just sent another email stating:
"Assessment Coupons Are Incorrect"
"The 2022 assessment coupons you have recently received or will soon receive in the mail are incorrect. Please discard these coupons as they show the wrong amount for your monthly assessment. Our vendor erroneously switched the amounts for improved and unimproved lot assessments.
"Improved lots (lots with homes) are $90.00 per month or $1,080.00 for the year. Unimproved lots are $43.00 per month or $516.00 for the year. We are mailing new, corrected coupons, which you will receive soon…"
Here is some detailed information the POA sent on December 30, 2021, and again on January 3, 2022:
Annual Renewals – Don't Worry – You Have Until January 31, 2022
Annual-Renewals-Dont-Worry-You-Have-Until-January-31-2022

Click here to go to the Xplore the Village website. Once on the Xplore website click "Members". (See the example photo below.)

Then click "Passes & Registrations." (See the example photo below.) You will need to log in after clicking "Passes & Registrations".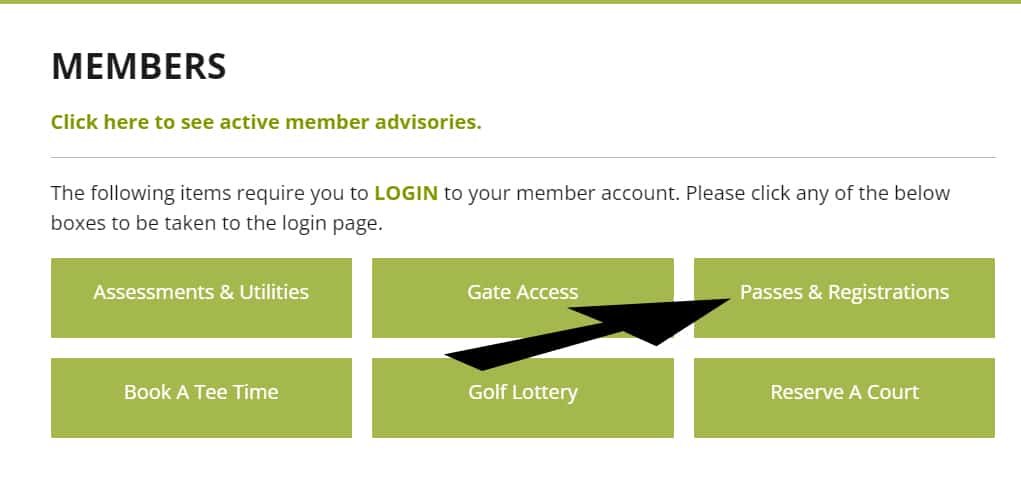 Then click "Passes and Registrations" again and follow the prompts. (See the example photo below.)
POA Annual Renewal Form
MEMBER-2022-RENEWAL-WORKSHEET-PDF-12-17-2021.xlsx

The POA thanks you for your patience as they work through these challenges.
HSVPOA Board Discussion Session 1-5-22
Additional note: HSVPOA Board Discussion Session is tomorrow, January 5, 2022, at 9:00 a.m. at the Ponce de Leon Center, Ouachita Room, located at 1101 DeSoto Blvd, Hot Springs Village, AR 71909. This meeting is scheduled to be live-streamed. Click here to go to the POA Official YouTube channel.
Written by Cheryl Dowden, January 4, 2022
Art by Joseph Michael Dowden
* * *
Thank you for reading. If you like, please comment below; we love to hear your opinion. Thank you for keeping the comments polite and on topic. Please use your real first and last name. If you would like to submit an article for publication, please contact us through this website. Be sure to bookmark this website.