On June 16, 2021, committee members and a Property Owner joined POA staff to spread wildflower seeds in several places where West Tree Service and Entergy had cleared the power line easements.
Those that participated were James (Buzz) Carpenter, Guy Richardson, Laurie Hartshorn, Jan Miles, and Jan Rowe, all from the Trails Committee. Also assisting were Ann Shears from the Common Property, Forestry and Wildlife Committee, and Property Owner, Kris Wester. POA Staff coordinating and assisting with the project were Todd Noles, Common Property, Forest and Wildlife Manger, and Jeff Ray.
The Volunteers formed smaller groups and seeded various areas along Balearic, Camino, and Mazarron. Additionally, they also spread the seed on the hill at the RV Park. They hope that the seeds will flourish and produce wildflowers that will replace some of the lost vegetation and help beautify the roadsides of the Village.
Manager Noles expressed, "thank you to the volunteers that came out yesterday and weathered the heat to help spread wildflowers. You are appreciated so much and I thank you very much for taking the time and working so hard to help make our wonderful community more beautiful."
Some tadpoles stranded in a puddle were also saved and relocated to a better water environment.
Please click on the photograph below to enlarge the picture. Also, to view the rest of the photographs, please click on the arrows.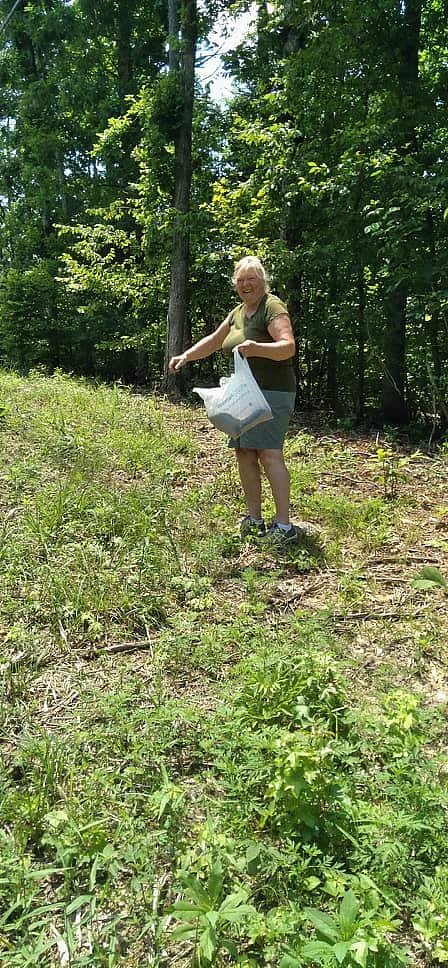 Sowing Wildflowers on a hot Arkansas Day
Making Hot Springs Village Beautiful with Wildflowers
Villagers making HSV beautiful
Making HSV Roadsides Beautiful with wildflowers
List of Wildflower Seeds used on HSV Roadsides
Article and photography courtesy of Janet Rowe, June 17, 2021
* * *
Thank you for reading. If you like, please comment below. We love to hear your opinion, but comments must be made using your first and last real name, or they will not be accepted. If you would like to submit an article for publication, please contact us through this website. Be sure to bookmark this website. Click here to visit the Hot Springs Village People Facebook Group.