Don't dump – call Chad. Most Villagers would never think to litter or dump anything on the roadsides, unbuilt lots, or common areas. But sometimes the unthinkable happens.
The Wright solution
When this despicable dumping occurs, Chad Wright of Hot Springs Village comes to the rescue. Mr. Wright picks up appliances if someone has dumped them in the Village. This is a wonderful act of service for his fellow Villagers.
Mr. Wright also picks up old appliances from Villagers for free. He then either repairs them or uses the workable parts to repair appliances for people who cannot afford to pay for new parts.
This is what Mr. Wright has to say: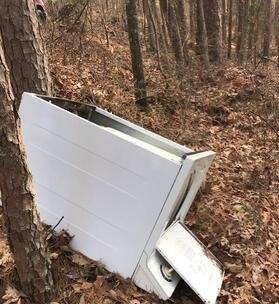 "Please don't dump old appliances, or anything for that matter, in our wooded areas. My wife and I were traveling some of the back roads of the village and found two different places where appliances had been dumped."
"Our village is much too beautiful for this. I think some people are of the assumption there is nowhere to take these items."
"I will haul away for FREE any broken or unwanted appliances. If you see any appliances in our wooded areas or know of anyone that has them at their home and would like to be rid of them, please text me or give me a call. I will be glad to pick them up at no charge." Thank you, Chad 903-556-1092
This is an unbeatable solution for everyone. Mr. Wright is not only reducing waste and helping to keep our beautiful Village clean but his service is a valuable one for those who cannot afford expensive new parts for non-working appliances. It is also a valuable service for Villagers who would like to have an appliance picked up.
Update from Chad Wright
"I just wanted to thank everyone that has spread the word so far. I've gotten several calls and messages about hauling away old appliances among other things. I'm so happy to be able to help in this small way. I am utilizing every part that I can off of these items to help other people that may not have the money to purchase a new appliance or new parts to have theirs repaired. It's a win-win for everyone."
"Thank you again for such a positive response. One more reason why I love living here in Hot Springs Village! These are just a few of the items I've picked up for FREE in the past couple of days."
Why I love living in Hot Springs Village
Chad Wright is just one more reason why I love living in Hot Springs Village – Villagers working together for a better Village. Thank you, Chad!
By Cheryl Dowden – December 28, 2019