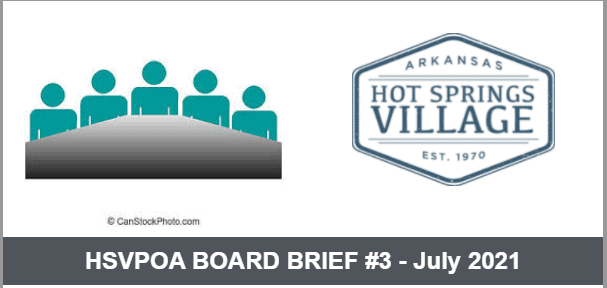 The Hot Springs Village Board of Directors sent out the following email to Property Owners on July 8, 2021:
The residents of Hot Springs Village have always enjoyed a variety of dining options inside our gates. Our restaurants include establishments owned and operated by the POA itself, those operated independently in POA-leased facilities, and other independently owned and operated businesses – all dedicated to serving Village residents.
Our restaurants, like restaurants and other service-industry businesses across the nation, are faced with an acute labor shortage as we emerge from the COVID-19 pandemic and the disruptions it caused. The restaurant owners and managers in the Village are working diligently to fill job openings, but it could be months, a year, or longer before operations are back to 2019 or "normal" standards.
During this period of adjustment and improvement, we're asking for your patience and understanding. We ask you to do two things:-  
First, it's important that all of us continue to support and dine at our local restaurants. We recommend you call ahead to be sure a restaurant is open, as hours of operation change frequently, based on available labor. Phone numbers for 15 inside-the-Village restaurants are listed on the HSV restaurants page.
Second, please stay positive. Our restaurants are working to maintain regular hours and menu offerings, but there will be some days a restaurant isn't ready and may need to curtail its operations. Again, we recommend you call ahead before you drive to your favorite restaurant. 
We will get back to a new version of "normal" as soon as we can. Thank you for understanding.
Respectfully provided,
HSVPOA Board of Directors
July 8, 2021
* * *
Thank you for reading. If you like, please comment below. We love to hear your opinion, but comments must be made using your first and last real name, or they will not be accepted. If you would like to submit an article for publication, please contact us through this website. Be sure to bookmark this website. Click here to visit the Hot Springs Village People Facebook Group.